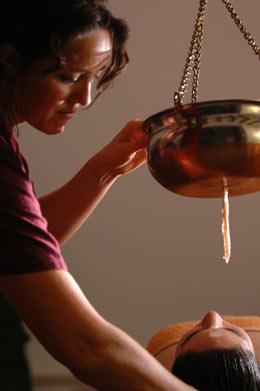 Be the change you want to see in the world
(Mahatma Gandhi)
In the year 2007 one of my travels took me to Nilgiri, located in southern India's highest mountains. These, so-called "blue mountains" exude a magical enchantment. Within vast valleys, covered by tea plantations where the air is significantly colder than in the tropical flatlands and embedded in this beautiful surrounding is a small Indian Hospital, whose team of doctors' mission is to give patients from around the globe a healthier, balanced life though Ayurveda.
There, I was lucky to meet Dr. Sundar Raman, someone who impressed me with his comforting charisma and his tremendous expertise from the first moment.
I stayed at this energetic place and was inducted into the secrets of the ancient wisdom of Ayurveda. There, I got a well-founded education of the versatile healing therapies; I've learned several massage techniques and got an extensive insight of nutritional science (dietetics).
Due to the apprenticeship in India it felt like a door was opened for me in my life and I realized that from now on I wanted to open a door for others.
With my shop "Lotusoma, Centro de Ayurveda" I see myself as an Ambassador of the traditional Indian medicine and my aim is it to bring into our hectic western world a little relaxation and to open the path towards a healthier way of living.
Annett Levy
Was born the 22nd of June 1966 in Germany and is living in Mallorca since 1996.
The well-traveled cosmopolitan Ayurveda therapist is licensed as such by the German TÜV Nordsiegelzertifikat, licensed Naturoath, is a professionally trained wellness trainer and has substantial knowledge of Shiatsu, Yoga, Relaxation- and Meditation Therapies.