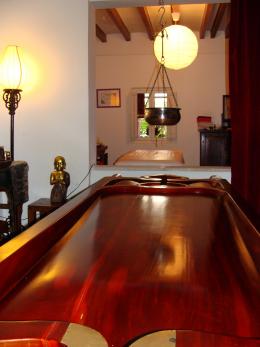 Ayurveda Tratments
Consultation, 60 EUR
Pakrut analysis (detailed examination to determine the constitution type from an ayurvedic point of view) advice for treatments and diet. This analysis should be done before your first Ayurvedic Treatment. with Annett Levy Therapist for Ayurveda y Naturopath
Consultation with the Indian doctor Doc. Bharat Negi, 60 EUR; for clients with chronical or acut problems
Traditional Abhyanga,  80 EUR
Oil massage with original ayurvedic oils - anti-stress treatment, improves lymphatic systems- detoxifying, balance of liquids, blood circulation, relieves back pain, anxiety, insomnia, chronic fatigue syndrome, rejuvenation.
Synchronous Abhyanga,  95 EUR
4-Hand-oilmassage > see details Abhyanga
Abhyanga Deluxe,  99 EUR
intensive and individual oil treatment, marma point massage and balancing of chakras, see details Abhyanga
Shirodhara, 89 EUR
Ancient Indian relaxation therapy, head treatment and massage, original ayurvedic oils will be poured over forehead. Helps in insomnia and for the whole nerve-system.
Udwarthanam, 80 EUR
4-hand herbal powder massage - stimulates metabolism, reduction of cellulite, weight loosing, improves skin tone.
Podikizhi, 95 EUR
4-hand-patting massage with hot herbal powder pouches - detoxifies, strengthens, revitalises, lubricates the joints.
Jambira Pinda Sweda, 95 EUR
4-hand anti-cellulitis-treatment
Navarakizhi, 125 EUR
Massage with pouches filed with medicated rice dipped into herbal warm milk- a highly effective anti-aging and rejuvenation treatment, one of the most popular therapies used to relieve aches, pains and stiffness, improves complexion of skin, promotes digestion and restores vigor.
Pizhichill, 140 EUR
Oil-bath (KKings bath) – balancing Vata , revitalizing.
Lemonkizhi, 45 EUR
Neck and shoulder treatment
Nasya, 35 EUR
Panchakarma treatment, head massage and steam inhalation, administration of herbal
Uddhylanam/Lepana, 35 EUR
compresses of herbal pastes
Kati Basti, 30 EUR
Oil treatment for back pain.
Padabhyanga, 35 EUR
Foot and leg massage.
Shiroabhyanga, 35 EUR
Indian head massage - head, neck and shoulders
Upanahasveda/Back massage, 35 EUR
Intense massage of back, shoulders and neck with ayurvedic oils.
Combination Abhyanga & Shirodhara, 140 EUR
Anti-stress treatment, 3 Days, 350 EUR
Treatment or intensive relaxation with a combination of Abhyanga and Shirodhara
Pizhichill, 3 Days, 370 EUR
Detox and rejuvenation week, from 540 EUR
We create a special diet and activity plan with daily Ayurveda treatments specific for your needs.
10 Days to 3 Weeks- other courses of treatments (such as weight-loss treatments)
on request
Ayurvedic Beauty Treatments
Face pack treatment, 55 EUR
Cleansing, massage and peeling followed by fruit and powder mask
The Reconnection & Healing through reconnection by Dr. Eric Pearl
The Reconnection, 333 EUR
Reconective Healing, 75 EUR