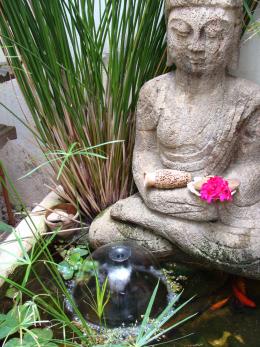 Pleasure and healing power in its most natural state – Lotusoma herbal Teas
Healing & Pleasure
For long lasting and holistic (integral) health and natural beauty the Ayurvedic medicine recommends the regular intake of minimum 1.5l of liquid a day. Principally it should be done in form of warm beverages.
For the Lotusoma product line we mix residue free, precious ingredients from mainly a biological or organic cultivation, which contribute to the harmonization (co-ordination) of every Dosha, the three different life energies.
If you are looking for a green tea with bamboo & ginger, an Ayurvedamix with pink pepper and Tulsi, known as the Indian basil, or our popular "Magic Tea" made of Jiagulan, the so-called herb of immortality. Every tea-lover will find something among our extensive range of products and it will lead to individual balance and pure pleasure.
Whenever you enter the "Lotusoma Centro de Ayurveda" you will be greeted by the gleeful jingle of the Indian doorbells and we welcome you into our little oasis.
The premises have been renovated with attention to detail and furnished in a mix of modern and a far eastern style.
In the different therapy / treatment rooms there is an atmosphere of comfort and peace and we guarantee you pure stress relief.
For the Ayurvedic oil treatments there is an original Indian Dhroni -table available, especially handmade out of the most noble "wenge" wood.
The "wenge" tree is known in Asia to have magical powers. These powers have been saved for centuries in the wood as energy and should be transmitted to your body during a treatment.
Our Buddha patio invites you to relax or meditate before or after any of our treatments.